Bio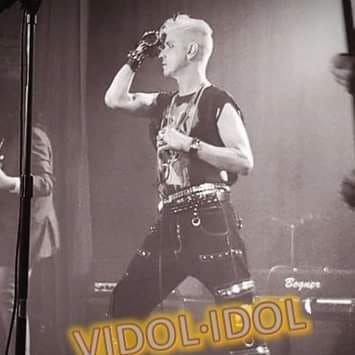 Vidol Idol
Members
Jeff "Gunny" Forayter:
Gunny's passion for hard rock began in his high school years in Portland, OR.  His musical influences include Billy Idol, Ozzy, Ronnie James Dio, Bon Scott, and Steven Tyler.  Gunny became a diehard Billy Idol fan during this time, and began his musical journey with karaoke and Billy Idol lip synch contests.  Gunny did a tour of servive in the Marine Corps from from 1985 - 2005, including operation Iraqi Freedom. Gunny gets his nickname from his rank as gunnery sergeant in Corps.  Gunny gathered the Vidol Idol lineup from friends and local musicians who share his admiration for Billy Idol and for Gunny's passion for his "idol's" music and rocking shows.
Pat Stilwell (Guitar):
Pat hails from the east coast, and moved to Portland in 2009 after spending time in Seattle, Mobile, San Antonio, and Albuquerque.  Along the way, he performed in numerous blues and rock bands, and has released several self-titled studio albums.  Pat lends his guitar skills to the daunting challenge of capturing the guitar magic of Billy's right hand man, Steve Stevens. 
Daniel Lemyre (Bass):
Daniel has been playing bass since the age of 16, with influences of Eddie Jackson of Queensryche, Dug Pinnick of Kings X, and Steve Harris of Iron Maiden. Daniel has studied with Bjorn Englen of Yngwei Malmsteen, Tony McAalpine, and Dio Disciples. Daniel likes to keep the groove strong and rhythm tight with the drummer.
Dennis Kaz (Drums):
Dennis Michael Kaz has been performing and recording professionally for thirty plus years, including stints with Lita Ford, Y&T, and many more top level bands in a variety of genres, including rock, pop, country, blues, and classical.  "Kaz" has toured throughout the U.S. and and Canada, and now makes his home in Vancouver, WA.